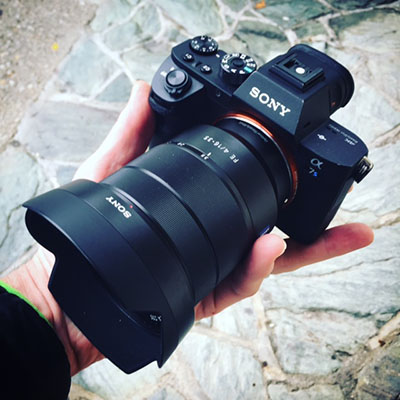 I was recently asked about whether it was worth upgrading from the Canon 70D to the Canon 5Dmkiii for shooting real estate video which got me thinking as to what I'm looking for in my next camera that I will buy.
In my role as a profesional freelance video cameraman I'm in the fortunate position to have been able to trial many different cameras on jobs.  Cameras like the Sony A7Smkii, the new Panasonic GH5 and more recently I did a 5 day shoot on a brand new Canon C300 mkii (picture was of the packaging I had to remove on a brand new C300 mkii in the foyer of a hotel whilst crew was waiting for me so we could head out of the door to a shoot…no pressure!) I also recently got to shoot on the new Sony FS7 mkii on a 3 day corporate job chasing cars driving on the snow.  With that said here is my criteria or list of factors I recommend you take into account when choosing a new camera.
Here's a list of things I now look at in my next potential camera purchase and are roughly in this order of priority;
What am I going to be predominately shooting with the camera? For example is it real estate videos, sports and events or freelancing for television?  I shoot a lot for a production company out of Auckland here in New Zealand and offered to use the new Sony A7Smkii for some pick up shots for an Architecture style TV show.  They however didn't want me to use the Sony A7Sii camera, their minimum requirement for their production was the Sony FS7!  I now tend to hire cameras in for specific jobs depending upon their requirements but still shoot almost all of my Real Estate Videos for clients on my trusty old Canon 80D and its still doing a great job ( I have however got my eyes on the Sony A7Smkii).
Ease of real world use – is it easy to operate out in the real world? Does it have a flip out LCD monitor or an optical viewfinder? Does it have good battery life? Does it have focusing and exposure aids such as peaking and zebras?
Price – Will I gain significant advantages for the price jump to a new system? Will my clients notice any difference or can I give them added value that can potentially give me revenue increases when shooting commercially?
Lens system – Can I use my existing lenses? (I have a bit of Canon glass) and what is the price of a new wide angle lens for shooting real estate interiors?  Do I have to buy a whole new lens system or a lens adapter such as the Metabones?
Does it record High frame rates (ie up to 100fps) I don't use high frame rate recording much in real estate videos but love the option of super slo-mo in other styles of video shooting.
Size & weight – I prefer the smaller size and weight of the mirrorless cameras as I want to be able to use them on my current slider and tripod setup and use them with handheld gimbals such as the Zhiyun crane which I'm trying to incorporate more into my real estate offerings.  As a side note I've tried using my Canon 80d with the Tokina 11-16 wide lens on the Zhiyun crane but it was just too heavy so didn't work for me.
4K video recording – not a deal breaker but eventually a client will ask for a 4K job even thou I'm still predominately delivering in 1080p and buying a 4k camera is a future proofing consideration.
That is my current thinking and I guess if you were to boil all that down into one statement,  it would be
Features vs Price
…. and as we all know, prices and camera features seem to change on a weekly basis! The search for the elusive perfect camera for all my needs goes on and I strongly suspect that there will never be the one perfect camera for all my video shooting needs.
If you held a gun to my head and made me choose?
My current recommendations at time of writing this would be if you were on a tight budget I would go the
Canon 80D
with
Tokina 11-16mm f2.8 lens
.  If you want to get what I would say was currently the best I would go the
Sony A7Smkii
with the
Sony 16-35 f4 lens.
Thats my 10 cents worth, leave a comment on what factors would influence your next camera choice?  I hope thats some help and happy shooting.